Hello, there!
My guest for today's interview is Rachel S. Lee, an amazing woman who helps entrepreneurs get visible so that they can share their message with their audience.
About Rachel S. Lee
Rachel S. Lee is a speaker, trainer, coach and NLP practitioner for entrepreneurs. She inspires them to take a massively aligned action with authentic online marketing.
You can find more about her on www.rachelslee.com and you can also find her on Facebook!
Get her book!
Meanwhile, Rachel has become a published author for the second time. Her book "Transform Your Reality: Practical Ways to Make a 360 in Your Life" is available on Amazon and it's a no-nonsense guide to positively changing the direction of your life. She went from being in jail to being a success coach and inspirational speaker and she will teach you how you can do the same!
Subscribe to get updates when new episodes are published!
---
[/fusion_text]
Hit PLAY!
Video Version
Freebie Alert!
Each and every entrepreneur who gets featured in my podcast gets to share a free offer with you. Rachel chose to offer her "Customer Avatar Worksheet" for free so that you can find your ideal client and start making more money from your business.
Click here to download the Customer Avatar Worksheet!
---
What You'll Learn From Rachel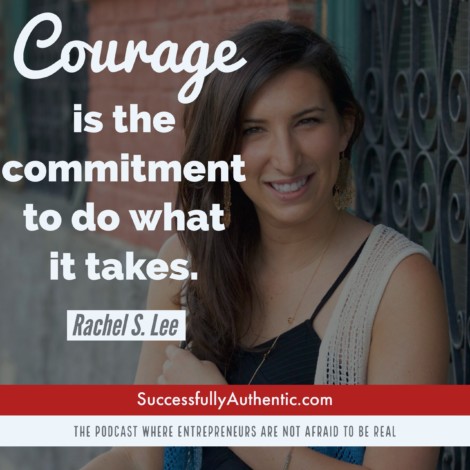 To make it easier for you to find exactly the things that interest you the most, here's a breakdown of the topics that I've covered with her. There's a little something for everyone, I'm sure of it!
01:07 – her story
05:46 – why she decided to start her business
08:59 – the biggest fears she had 
15:29 – the definition of courage
17:20 – overcoming the fear of people judging her
23:03 – thoughts on authenticity, journaling, and true self
30:47  – about authenticity and entrepreneurs
---
The Marketing Bundle For Creative Entrepreneurs
worth $500+

Get access to THREE ebooks that will help you build an authentic business, relationships and the 13 mindset blocks that are keeping you BROEK. Yeah, it's FREE!

---

The Questions That I've Asked Rachel

NOTE: these were not the only questions of the interview, but the questions that started the conversation.

What's your story and why have you decided to go on your own path and become an entrepreneur?
Why did you start the business that you're running right now?
What was the biggest fear that you had? What was the biggest fear that you had maybe when you moved to L.A.?
How would you define courage?
How do you get over the fear of people judging you?
How do you get over the fear of ……. (19.20)
How can one tap into his or her true self and what's the first step that anyone can take today to become their true self or move in that direction?
How much do you journal per day or per week?
Why is it so important for entrepreneurs to be authentic, to be their true self and how can that directly impact their business?

---

Resources Mentioned During The Interview 

---

Awesome Resources!

1. Authenticity Is The New Sexy: free guide on taking advantage of the authenticity trend in business!

2. #CurePerfectionism: resources to help you overcome perfectionism and be in control of your business success.

---

Key Lessons and Tweetables

"We're special in a good way, but we think we're special in a bad way."
"Courage is the commitment to do what it takes." – Click to Tweet!
"Fear is a physical feeling."
"Your authentic self is like your perfume." – Click to Tweet!

I really hope this interview left you more determined into following your dream and being authentic and your true self.

My goal is for you to always get at least one big idea from these interviews.

I'd love to know what resonated with you the most (in a comment below).

[/fusion_text]