Hey world!
Today's guest has managed to connect, interview, work with and even get testimonials from some of the top entrepreneurs at the moment, especially in the online world.
She managed to connect and interview people like Pat Flynn, John Lee Dumas and Chris Ducker in less than one year after she became serious about her business.
Meet Tamara Thompson.
About Tamara Thompson
Tamara is the president at Serious Take Productions where she produces amazing branding videos for entrepreneurs like John Lee Dumas or Pat Flynn.
Click here to see a video she created – I promise you'll be impressed!
She created an incredible documentary featuring 11 top entrepreneurs (title: Inspired by 11) like the two mentioned above and Allison Maslan, Dan Price, Chris Ducker and a few more.
You can watch the full documentary by clicking here!
You can follow her on Facebook.
Subscribe to get updates when new episodes are published!
---
[/fusion_text]
Hit PLAY!
Video Version
---
Favorite Articles Written by Tamara Thompson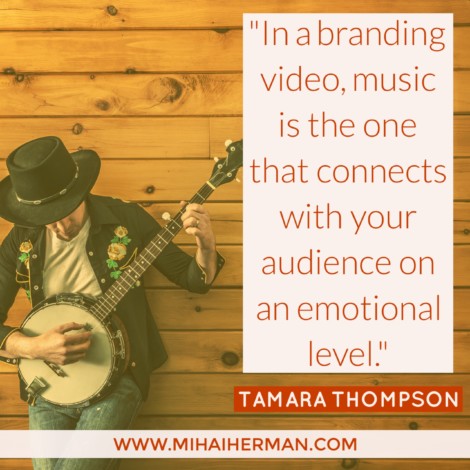 When my guests have blogs, I like to feature three articles that I liked the most, to give you more value and get to know the person even better.
---
The Marketing Bundle For Creative Entrepreneurs
worth $500+

Get access to THREE ebooks that will help you build an authentic business, relationships and the 13 mindset blocks that are keeping you BROEK. Yeah, it's FREE!

---

The Questions That I've Asked Tamara

NOTE: these were not the only questions of the interview, but the questions that started the conversation.

Tell us about your story and why did you choose to become an entrepreneur.
What were some of the fears and doubts you had when you first started on this path of entrepreneurship?
How did you manage to overcome those fears?
You recently produced a documentary called Inspired by 11, can you tell us a bit about it and even one or two lessons that you've learned about entrepreneurship?
How long did it take you to organize the event?
Why is the story so important for a brand?
What's the ideal length of a branding video?
What would you say are the most important elements of a story that connects people emotionally?

---

What You'll Learn From Tamara

To make it easier for you to find exactly what you're looking for in this interview, here's a breakdown of the topics that we've covered. There's a little something for everyone – I am sure!

1:00 – her story
3:22 – the fears that she had when she started out as an entrepreneur
4:11 – her biggest FEAR
6:02 – rejection
14:05 – what's your WHY and how to define it
27:54 – key points to making a successful story
28:54 – music and why is it so important
34:15 – what's the ideal length of a branding video
35:50 – how to make your video a success and promote it
40:12 – what she has learned from the successful entrepreneurs she interviewed

Resources Mentioned During The Interview

---

Tweetables

"Music plays an important role in a branding video because it connects emotionally." – Click to Tweet!
"Don't assume what your audience wants. Ask!!" – Click to Tweet!

I truly hope this interview left you feeling more empowered to find ways to grow your business but to also contribute to your local community as well.

My goal is for you to always get at least one big idea from these interviews.

I'd love to know what resonated with you the most (in a comment below).

[/fusion_text]