If you ever thought that you cannot get past your fears or that no one can motivate you, you'll think twice after meeting this week's guest.
She is young, fabulous, successful and full of energy.
Meet Naiana Miranda.
About Naiana Miranda
Naiana is an international speaker and founder of Raise The Bar, which helps teams build a culture of excellence to impact their bottom line. While a leadership trainer for large corporations such as Coca Cola and Ernst & Young, she found a need to empower small businesses.
Raise The Bar's mission is to never have employees say "Thank God it's Friday" again!
You can follow her on Facebook.

Spoiler Alert
If Naiana does not get you out of your comfort zone, no one will!
Hit PLAY!
Video Version
---
Favorite Articles Written by Naiana Miranda
When my guests have blogs, I like to feature three articles that I liked the most, to give you more value and get to know the person even better. She does not have a blog, but she got published on other websites like entrepreneur.com
---
Freebies
As always, Naiana has prepared a gift for you that will teach you how to become a badass.
What's a badass you're asking? She says, "someone who knows what they want and does whatever it takes to make it happen."
Learn how to simplify your life today by downloading the "Bad to Badass Blueprint" for FREE by clicking here!
---
The Marketing Bundle For Creative Entrepreneurs
worth $500+

Get access to THREE ebooks that will help you build an authentic business, relationships and the 13 mindset blocks that are keeping you BROEK. Yeah, it's FREE!
---
The Questions That I've Asked Naiana
NOTE: these were not the only questions of the interview, but the questions that started the conversation.
Tell us about your story and why did you choose to become an entrepreneur.
What were some of the fears and doubts you had when you first started on this path of entrepreneurship?
How did you manage to overcome those fears?
What exercises can you share that will help us get out of comfort zone easier?
What's a healthy way to motivate your team, your employees or even business partners?
Can you share some techniques and strategies that people can use to have a more engaged team?
How do you engage with an audience on an emotional level while delivering a public speech or a speech for a company?
---
What You'll Learn From Naiana
To make it easier for you to find exactly what you're looking for in this interview, here's a breakdown of the topics that we've covered. There's a little something for everyone – I am sure!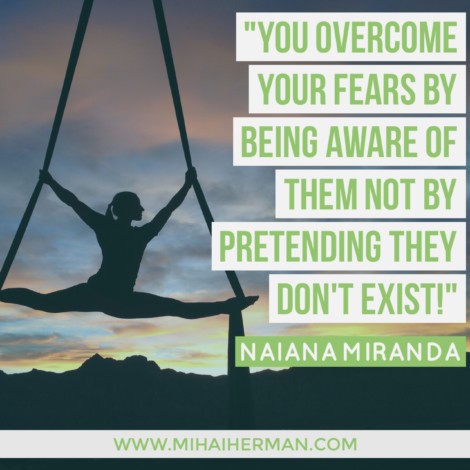 1:00 – her amazing life story
5:00 – the fears that she had when she started out as an entrepreneur
6:20 – how she overcame those fears
7:40 – she shares her mentor and a book that changed her life
10:05 – we talk about comfort zone and how to get out of it
16:33 – how to deliver a speech and connect with the audience
19:02 – what's the most powerful thing you can do during a speech
21:40 – talks about how to develop a culture of excellence in your company
22:31 – how she keeps a balance between work and life
25:00 – a piece of advice for all entrepreneurs
Resources Mentioned During The Interview
---
Tweetables
"Determination is the ability to not give up even when things get harder." – Click to Tweet!
"You overcome fears by being aware of them not by pretending they don't exist." – Click to Tweet!
I truly hope this interview left you feeling more empowered to find ways to grow your business but to also contribute to your local community as well.
My goal is for you to always get at least one big idea from these interviews.
I'd love to know what resonated with you the most (in a comment below).