If you ever thought that you cannot learn anything about business from a chef, I invite you to think again.
Today, I feature another young and inspiring entrepreneur who took life and business in her own hands and decided that she won't stop until she becomes successful.
Meet chef Kat Humphus.
About Chef Kat Humphus
Kat is an inspiring chef who decided to open her own recipes blog (SavoryMadeSimple.com) which lead to starting another business through which she delivers exquisite cuisine right to your doorstep (currently only in California).
She opened up this business because she wants to bring stress-free cooking to people's homes and to educate people on the importance of eating healthy and organic. 
You can follow her on Facebook or Instagram for delicious pictures and updates.
---
Spoiler Alert
You will NOT learn how to cook, but you will learn how to grow a business.
Hit PLAY!
Video Version
Favorite Articles From Her Blog
When my guests have blogs, I like to feature three articles that I liked the most, to give you more value and get to know the person better. Since most of Kat's articles are recipes, I've decided to not include any of that because you might not find them valuable as we talk about business. You can still visit her recipes page here.
---
The Marketing Bundle For Creative Entrepreneurs
worth $500+

Get access to THREE ebooks that will help you build an authentic business, relationships and the 13 mindset blocks that are keeping you BROEK. Yeah, it's FREE!
---
The Questions That I've Asked Kat
NOTE: these were not the only questions of the interview, but the questions that started the conversation.
Tell us about your story and why did you choose to become an entrepreneur.
What were some of the fears and doubts you had when you first started on this path of entrepreneurship?
How did you manage to overcome those fears?
What's the purpose behind your business?
How do you manage to donate 4 meals to Feeding America for every purchase?
Why Feeding America?
What are the positive and less positive aspects of owning a purpose driven business?
Is the food organic? Are you helping the local farmers as well through your business?
What are your ultimate goals with this business?
Resources Mentioned During The Interview
---
Key Lessons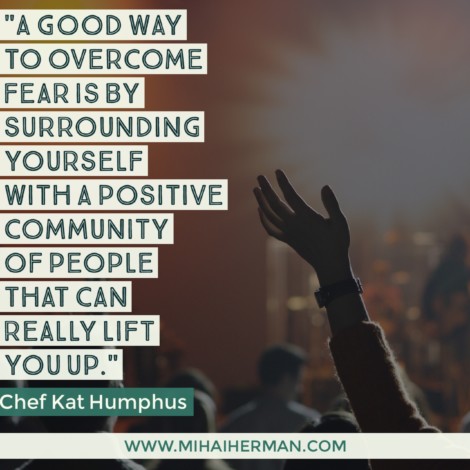 "I was scared that I will have no idea of how to run a "real" business."
"A good way to overcome fear is by surrounding yourself with a positive community of people that can really help lift you up."
"I can't say I am a perfectionist, maybe only at certain things. I am definitely more of an "is it almost perfect?"
"Advice for entrepreneurs: keep going even when things get hard and be flexible."
I truly hope this interview left you feeling more empowered to find ways to grow your business but to also contribute to your local community as well.
My goal is for you to always get at least one big idea from these interviews.
I'd love to know what resonated with you the most (in a comment below).