Today, I get to feature another inspiring entrepreneur and one of my favorite people from which I've learned A LOT even if she doesn't know how much of a big impact she's made in my life.
About Julia "Juju" Hook
Julia Hook has been helping companies build brand identities for the past 25 years and you can follow her work over at strategicjuju.com.
She also launched an online course that promises to make your brand unforgettable and is currently accepting new students. Check it out at unforgettableu.com
---
Spoiler Alert
Learn the difference between the brand story and back story + WHY one is more important than the other.
Hit PLAY!
Video version

Freebies From Julia
The Anatomy of a Brand – free download!
10 Steps to Building a Brand – free download!
---
Great Reads From Juju's Blog
Julia is an amazing writer and I don't know how she does it, but she publishes an article twice per week and they are not 400 words long. I've scanned through her blog and selected these three articles for you that are super valuable:
---
The Marketing Bundle For Creative Entrepreneurs
worth $500+
Get access to THREE ebooks that will help you build an authentic business, relationships and the 13 mindset blocks that are keeping you BROEK. Yeah, it's FREE!
---
The Questions
Among other stuff, these were the main questions in our conversation.
Tell us a bit about yourself and about your story, how did you started and, more importantly, why did you started.

What were some of the fears and doubts you had when you started out as an entrepreneur?
How did you get to know yourself better, your body and listen to what your intuition is telling you? Can you recommend an exercise, a book?
How do you deal with failure, bad days or days when you feel like not doing anything?
Who are your mentors?
What makes a good brand besides color, logo and business cards, of course?
If you were to pick just one, what would be the most important aspect of a brand?
What is the anatomy of a good story?
Resources
Key Takeaways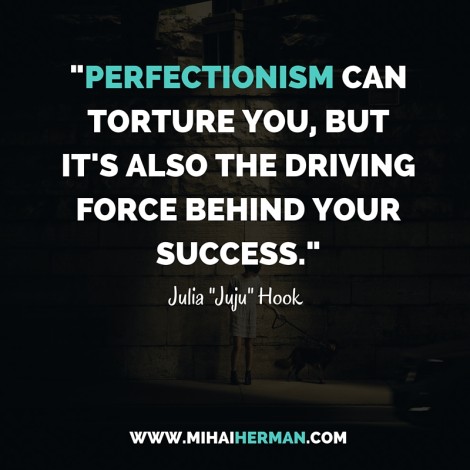 Initially, as an entrepreneur, you don't get the luxury of choosing your clients, mostly because you don't know with whom you'd like to work with, but also because you need to make money in order to grow the business.
"The concept of fixing yourself indicates, in some way, that you are broken."
"I don't believe anymore that I need to fix anything at myself and that's a tremendous weight off my shoulders. It's not egotistical."
"Comparison is a thief. We compare to other people and it robs us of our self-esteem, our ability to move forward and it robs us of the ability to see ourselves clearly."
"The impostor syndrome was one of the biggest mindset blocks I had."
"Balance is a practice. Entrepreneurship is a practice. Everything is life is a practice."
"Perfectionism can torture you, but it's also the driving force behind your success."
The brand story is more important than the back story. The back story is your story and its point is to validate your expertise.
Hope that you're feeling a bit more relaxed after watching this interview, not trying to fix yourself that much, but I also hope that you're walking away with at least one big idea about branding that you can implement this week. Julia has a way of making branding fun and easy to understand.

Julia has a way of making branding fun and easy to understand, doesn't she?!
Had an "AHA! Moment" while watching this interview? Share it with me in the comments section below!