Well, hello there!
Did you miss me?
Haven't published anything in almost a month because I was on vacation with limited email access for two weeks (which was awesome by the way) and then I prepared for a half-marathon which I finished and it felt awesome – see here.
It's funny how the Universe/God works because this interview came at the right moment for me when I was struggling with self-love and overwhelm, and I got answers to some crucial (at that moment) questions from a super successful coach.
Have you ever found yourself in a position in which you realized that you kinda need to unlearn most of the concepts about life, business, self-love because you did not learn them from the right people? Well, this is what I felt for most of the month of March and it was not pretty, but it helped me GROW big time.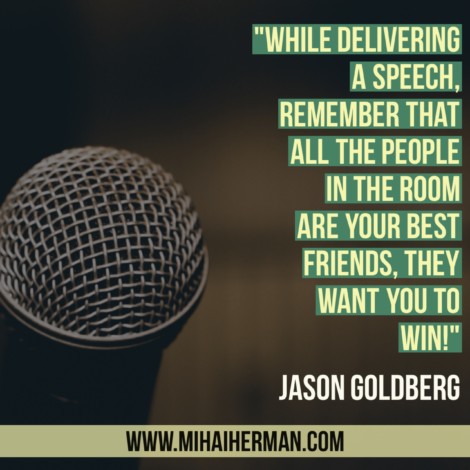 But enough about me.
Let's talk about today's guest – Jason Goldberg – who's, easily, one of the coolest and wisest people I know.

Spoiler Alert
You will learn Jason's exact process on building great presentations and he will blow your mind with his way of seeing life!
Hit PLAY!
Video Version

About Jason Goldberg
Jason is a super successful coach, international speaker, host at "The Not So Serious Life" Show with Steve Chandler and host at Evercoach Mastercircle – a training program for coaches by Mindvalley.
You can also follow him on Facebook (you'll love his pictures, messages and passion for life).
---
Favorite Episodes From His Show
When my guests have blogs, I like to feature three articles that I liked the most, to give you more value and get to know the person even better. Here are my favorites episodes from "The Not So Serious Life" with Jason Goldberg & Steve Chandler:
---
The Marketing Bundle For Creative Entrepreneurs
worth $500+

Get access to THREE ebooks that will help you build an authentic business, relationships and the 13 mindset blocks that are keeping you BROEK. Yeah, it's FREE!
---
The Questions That I've Asked Jason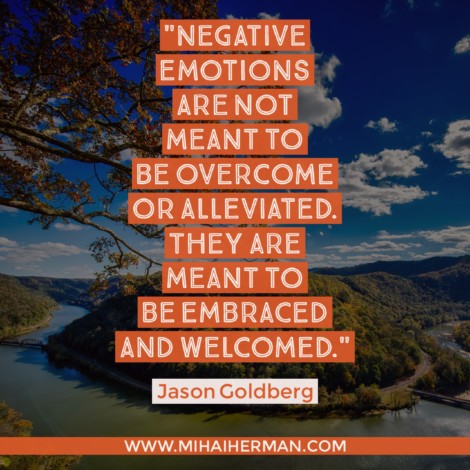 NOTE: these were not the only questions of the interview, but the questions that started the conversation.
Tell us about your story and why did you choose to become an entrepreneur.
What were some of the fears and doubts you had when you first started on this path of entrepreneurship?
How did you manage to overcome those fears?
How does change work?
How do you create a TED talk? What was your process?
How many times did you exercise the talk before it was in its final stage?
How can you deliver emotion through your speech? How can you connect with the audience on an emotional level?
What lessons did you learn by doing this TEDx talk?
What does it mean for you to be authentic, especially while delivering a speech?
Resources Mentioned During The Interview
---
Key Lessons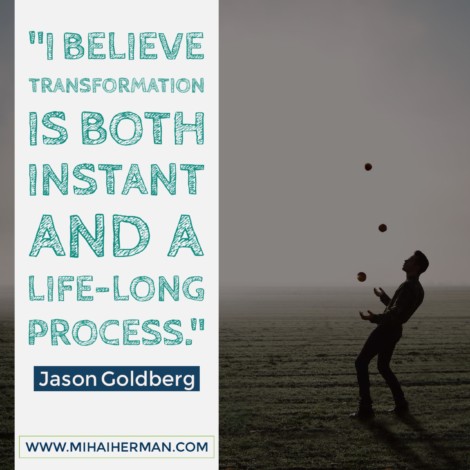 "Anytime we start something new, it's going to seem big and scary. None of us are immune to this – it's the human condition."
"I look at the negative feelings or the things that bring us stress, not as something that is meant to be overcome or alleviated, but as something to be embraced and welcomed."
"The simplicity of challenging and questioning the thoughts that naturally just occur in our mind is the most powerful practice that I've ever done."
"I believe transformation is both instant and a life-long process meaning that the understanding can happen very quick." – Click to tweet!
"Instead of always looking for fascination outside of us, let's try to manufacture it from the inside out, as a moment by moment choice, as a decision."
I truly hope this interview left you feeling more appreciation and love for yourself.
My goal is for you to always get at least one big idea from these interviews.
I'd love to know what resonated with you the most (in a comment below).