Hello, there!
My guest today is Cynthia Luois, a really empowering woman. I talked to her about what courage means and how to be a courageous person, and also about how to become a true leader.
About Cynthia Luois
Cynthia is>the creator and host of Redefining Revolutions Podcast (on iTunes). Cynthia is in the business of learning from powerful, empowering women.
Her company, Redefining Revolutions, is all about interviewing and coaching women around the world who are changing the game in their communities, careers and on a global level – women who are literally redefining what it means to have a revolution.
Find her on Facebook!
Subscribe to get updates when new episodes are published!
---
Hit PLAY!
Video Version
Freebie Alert!
Cynthia has been kind to offer you a PDF about "10 Redefining Keys to Leadership" that you can grab for free HERE!
OH, you will also get a 15min free coaching call with her!
---
What You'll Learn From Cynthia
To make it easier for you to find exactly the things that interest you the most, here's a breakdown of the topics that I've covered with her. There's a little something for everyone, I'm sure of it!
01:40 – her amazing life story
06:10 – the biggest fears and doubts she had as an entrepreneur
09:52 – books, mentors and events
10:58 – thoughts on self-awareness & why this is the first step towards a better life
22:15 – the definition of courage and being courageous
22:36 – her take on vulnerability
24:00 – differences between courage and foolishness
25:55 – her own definition of revolution
32:19 – what it means to be a true leader in 21st century
33:03 – redefining love & what we can all do to contribute to a more loving world
---
The Marketing Bundle For Creative Entrepreneurs
worth $500+

Get access to THREE ebooks that will help you build an authentic business, relationships and the 13 mindset blocks that are keeping you BROEK. Yeah, it's FREE!
---
The Questions That I've Asked Cynthia
NOTE: these were not the only questions of the interview, but the questions that started the conversation.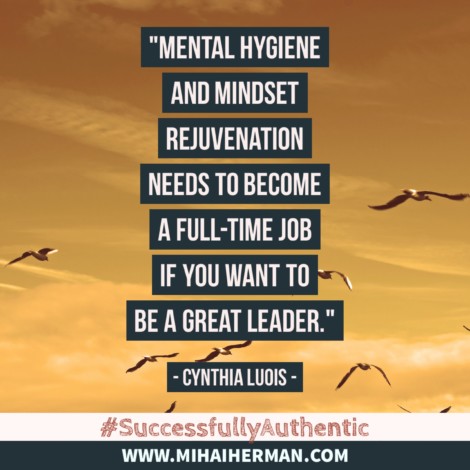 What's your story and why have you decided to go on your own path and become an entrepreneur?
Every beginning is scary. What were some of the fears or mental blocks that you had when you first started out on your own?
How did you overcome those fears? Any book that played an important role, online course, event or did you work with a coach?
You're all about redefining what it means to have a revolution. How do you define a revolution?
How can one start a revolution?
The women that you talk to are courageous ones that, as you said, speak truth to power in places that often forbid that. What does courage mean to you?
What makes you a courageous person?
What's the difference between courage and foolishness? A lot of people think they are super courageous if they jump from a cliff, but is that the real meaning of courage? I know Brene Brown defines courage as being able to speak your heart's truth. Do you agree?
I believe LOVE is everything, as do you. How can we use love, as leaders, to make a bigger impact in the world?
---
Resources Mentioned During The Interview 
---
Key Lessons and Tweetables
"Entrepreneurship is not romantic."
"To be courageous is to be vulnerable and to be vulnerable is to be courageous." – Click to Tweet!
"When I am humble, my ego is not there to linger."
"Foolishness doesn't give permission, courage gives permission." – Click to Tweet!
"We have to redefine love to really incorporate what it is, which is energy."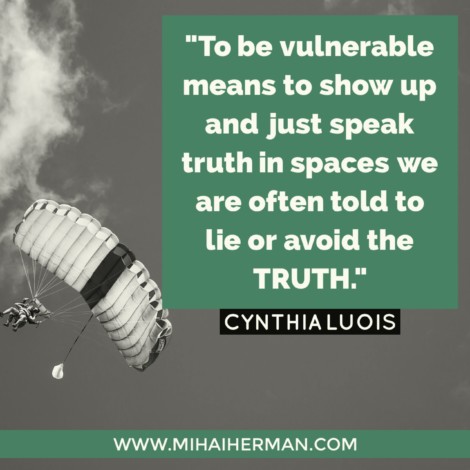 I really hope this interview left you more inspired to be a courageous person and to become a great leader, some day.
My goal is for you to always get at least one big idea from these interviews.
I'd love to know what resonated with you the most (in a comment below).
[/fusion_text]