Hello, there!
Today's guest, Calvin Wayman, is, clearly, a person that has something to say and will definitely blow your mind with his tips on Periscope and entrepreneurship.
He is the go-to guy for everything Periscope related and social media, but we also had a very long talk about how to overcome your fears, what does success means to him and everything you need to know to become a legendary entrepreneur.
About Calvin Wayman
Calvin Wayman is a social media entrepreneur. He's a sought-after speaker, featured guest on business, entrepreneur and social media podcasts, contributor for Entrepreneur Magazine, and founder of Cobbes – a social media management company.
He is also the creator of the YouTube show "Millionaire Case Study", where he is documenting his journey from zero to his first one million dollars as it's happening.
Find Calvin on Periscope!
Subscribe to get updates when new episodes are published!
---
Hit PLAY!
Freebie Alert!
Get started with Periscope by joining Calvin's "3 Day Challenge" that will help you overcome your shyness!
Want to become a Periscope PRO?
Check out Calvin's premium Periscope course to learn all about becoming the next influencer. The course is packed with amazing value and you can get it by clicking here!!
---
What You'll Learn From Calvin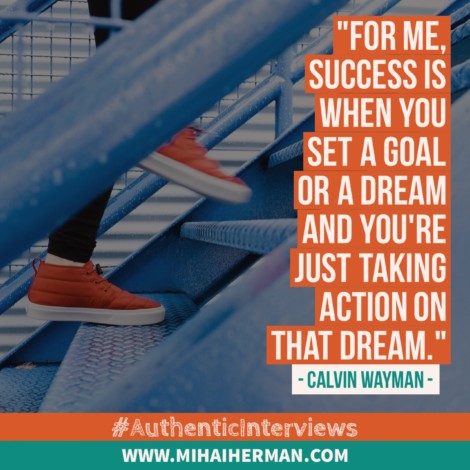 To make it easier for you to find exactly the things that interest you the most, here's a breakdown of the topic that I've covered with Calvin. There's a little something for everyone, I'm sure of it!
1:00 – his story
5:25 – what does success mean for him
6:20 – biggest fears and doubts
7:26 – about perfectionism
10:10 – how to deal with fear
19:44 – his strategy on how to deal with fear
20:00 – freedom and the belief that good things will happen
25:28 – confidence
30:10 – everything about Periscope – when to go live, what to share, how long + a few advanced tips
43:22 – entrepreneurship
---
Favorite Youtube Videos
---
The Marketing Bundle For Creative Entrepreneurs
worth $500+

Get access to THREE ebooks that will help you build an authentic business, relationships and the 13 mindset blocks that are keeping you BROEK. Yeah, it's FREE!
---
The Questions That I've Asked Calvin
NOTE: these were not the only questions of the interview, but the questions that started the conversation.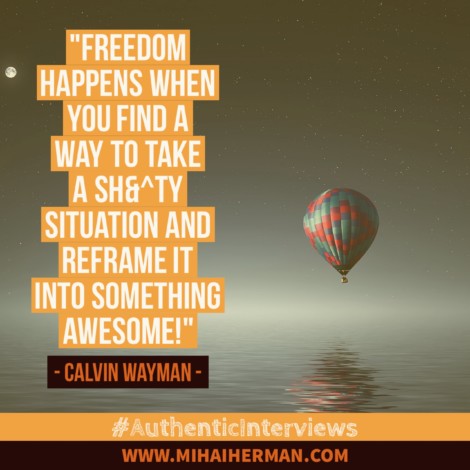 1. Tell us about your story and why did you decide to become an entrepreneur.
2. What were some of the fears and doubts you had when you first started on this path of entrepreneurship?
3. What's your strategy in making fear your friend?
4. You have a course called Periscope Pro, can you share some insights? What's the secret behind success on Periscope?
5. How can a coach get clients to his program through Periscope?
6. How often should you be on Periscope? how long should they be?
7. When you're starting out, how many people should you expect to have for a broadcast?
8. What's the best way of taking people from Periscope to your website?
9. How would you test a course on Periscope before creating it?
10.How much should you give away in a broadcast?
11. What do you think about Facebook Live? Can we use the same strategies? Is it better than Periscope?
---
Key Lessons and Tweetables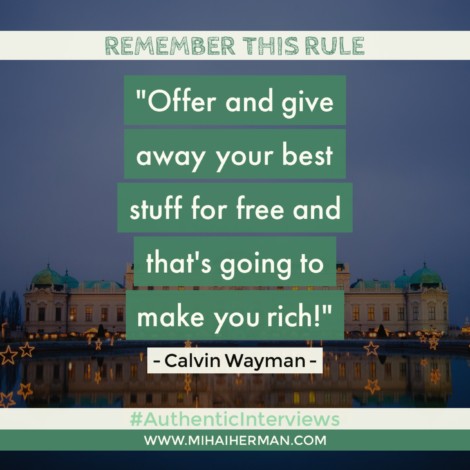 "For me, success is when you set a goal or a dream and you're just taking action on that dream, you're being successful." – Click to Tweet!
"Find a greater fear to swallow the smaller fear, take action and check yourself and see how you are thinking about a situation and try to find a way to reframe it."
"Freedom happens when you find a way to take a shitty circumstance/situation and reframe it into something awesome."
"Such a needed thing as an entrepreneur. You need to have confidence at least to take the step and you need to have the courage to take a step."
"A rule for anything – offer and give away your best stuff for free and that's going to make you rich." – Click to Tweet!
I truly hope this interview left you more empowered to pursue your dreams and be a successful person.
My goal is for you to always get at least one big idea from these interviews.
I'd love to know what resonated with you the most (in a comment below).
[/fusion_text]