What's Inside The Bundle For

Creative

Entrepreneur?
Authenticity is the New
BLACK

: How to Get More Clients By Being Yourself
$199 value
I believe in authenticity! I also believe that if you want a successful business on the long-term, you'd better build it on principles of authenticity, transparency and integrity. The best business is the one that is built on your true self!
Remember that "people buy why you do it, not what you do" (Simon Sinek)! Emotion sells and if you are willing to be vulnerable and put your whole self out there, you will be successful!
What you'll learn:
what exactly is authenticity
the benefits of being authentic (in terms of business)
9 questions that will help you uncover your true self (so that you can incorporate this in your business)
one powerful exercise to take the self-discovery to a whole new level
bonus: the pdf is editable on your computer!
.
.
.
.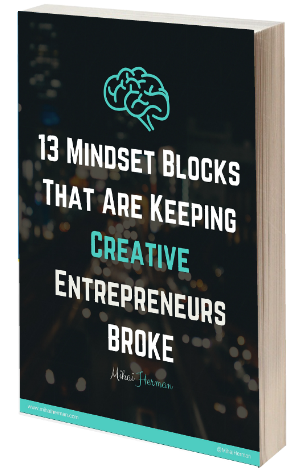 13 Mindset Blocks That Are Keeping Creative Entrepreneurs
BROKE

!
$147 value
You know what's weird, that you can use all the latest marketing strategies out there but they won't work if you are blocking yourself on a subconscious level, that's why I wrote this powerful ebook!
Note: I was once in your shoes and over the years I've dealt with ALL the mindset blocks covered in the ebook. 
What you'll learn:
what's a healthy way to deal with mindset blocks
two super important things to keep in mind while working on changing your mindset
the 13 blocks that are blocking you from abundance!
how to deal with perfectionism
how to get back your power and use it to create more wealth in your life
Join

400+

entrepreneurs & creative people!
They are already taking action on their dreams! What are you waiting for? Get access to this business marketing bundle today and

save over $500!