Super excited to announce today's interview which I believe to be very well balanced between mindset and actual marketing strategies that you can apply to grow your business.
Ever wondered what's the secret behind building your list through Facebook ads? Today's guest will explain you everything and much much more.
Today's guest is Amy Crane.
Meet Amy Crane
Amy is a super nice and creative person, and the founder of sociallabmarketing.com where she helps make Facebook ads easy for creative entrepreneurs.
She's the go-to person for anything Facebook Ads marketing related. You can find out more about her here.
You can also follow her work on Facebook and Youtube – she has some really cool videos!
---
Spoiler Alert
You will learn what's a good cost per conversion on Facebook from someone that is doing this for years so that you can stop looking for the next big formula.
Hit PLAY!
Liked this episode? Click here to subscribe on iTunes or Stitcher.
Video Version

Favorite Articles From Amy's Blog
When my guests have blogs, I like to feature three articles that I liked the most, to give you more value and get to know the person even better. Here are my favorites:
---
Freebies!!!
I always ask for a freebie for you guys and Amy was super nice to offer you these free Facebook Ads Templates that you can access here.
The Marketing Bundle For Creative Entrepreneurs
worth $500+

Get access to THREE ebooks that will help you build an authentic business, relationships and the 13 mindset blocks that are keeping you BROEK. Yeah, it's FREE!
---
What You'll Learn!
Here are some key lessons you will learn by watching this interview:
How did Amy go from owning a brick and mortar store to a super successful online business
What was Amy's biggest fear when she started out as an entrepreneur and how did she overcome that
The biggest myth about fears and doubts in business
What are the new brand awareness ads by Facebook and who needs them
How to build your list through a freebie + Facebook advertising
What's a good dollar amount to pay per conversion on Facebook's advertising platform
What are some of the best platforms to host webinars on
---
The Questions That I've Asked Amy
NOTE: these were not the only questions of the interview, but the questions that started the conversation.
Tell us about your story and why did you choose to become an entrepreneur.
What were some of the fears and doubts you had when you first started on this path of entrepreneurship?
If you were to pick ONE thing that contributed the most to your success, what would it be?
What are the new brand awareness ads by Facebook? Who needs them? Are they a distraction for small business owners or not?
What is a good cost per conversion with Facebook ads?
Webinar vs. a free ebook/video course.
How do you deal with stressful and bad days? What's your strategy?
Resources Mentioned During The Interview
---
Key Lessons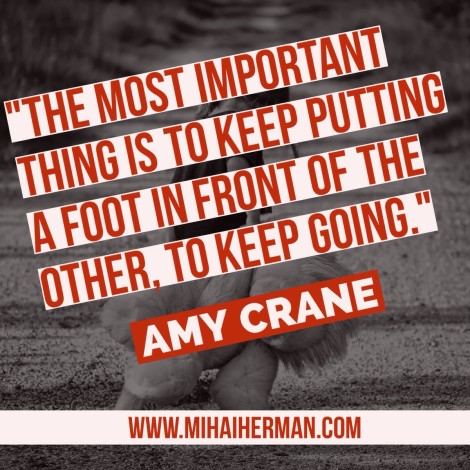 "My first big fear with the business was failure – what if it doesn't work?"
"The most important thing is to keep putting a foot in front of the other, keep going." – Click to Tweet!
"Brand awareness ads are going to be shown to people that are more likely to pay attention to your business. They are better for people that have large email lists, a lot of website traffic, they are more established in their business and they have ad campaigns running.  These ads will help bring the cost down for all the other campaigns you are running!"
"List building on Facebook is a great strategy when you do it the right way. It starts with a good offer and then making sure that you're following up once people are on that list (to have autoresponders in place)."
My goal is for you to always get at least one big idea from these interviews.
I'd love to know what resonated with you the most (in a comment below).